Welcome to Central
Connecting people to people and Bible to life
Our Gatherings
Each week we gather to worship and grow in relationship with one another and with Christ Jesus our Savior.
Sunday Worship
Connect Groups -

9:30 AM

Worship -

10:40 AM

Enrichment Classes -

4:30 PM

(fall and spring only)
Wednesday Activities
Prayer/Bible Study -

4:00 PM

Fellowship Meal -

5:00 PM

Preschool and Children's -

5:30 PM

to

7:00 PM

Youth Activities -

5:30 PM

to

7:00 PM

Caring Center Food Pantry -

6:00 PM

to

7:00 PM
View Other Events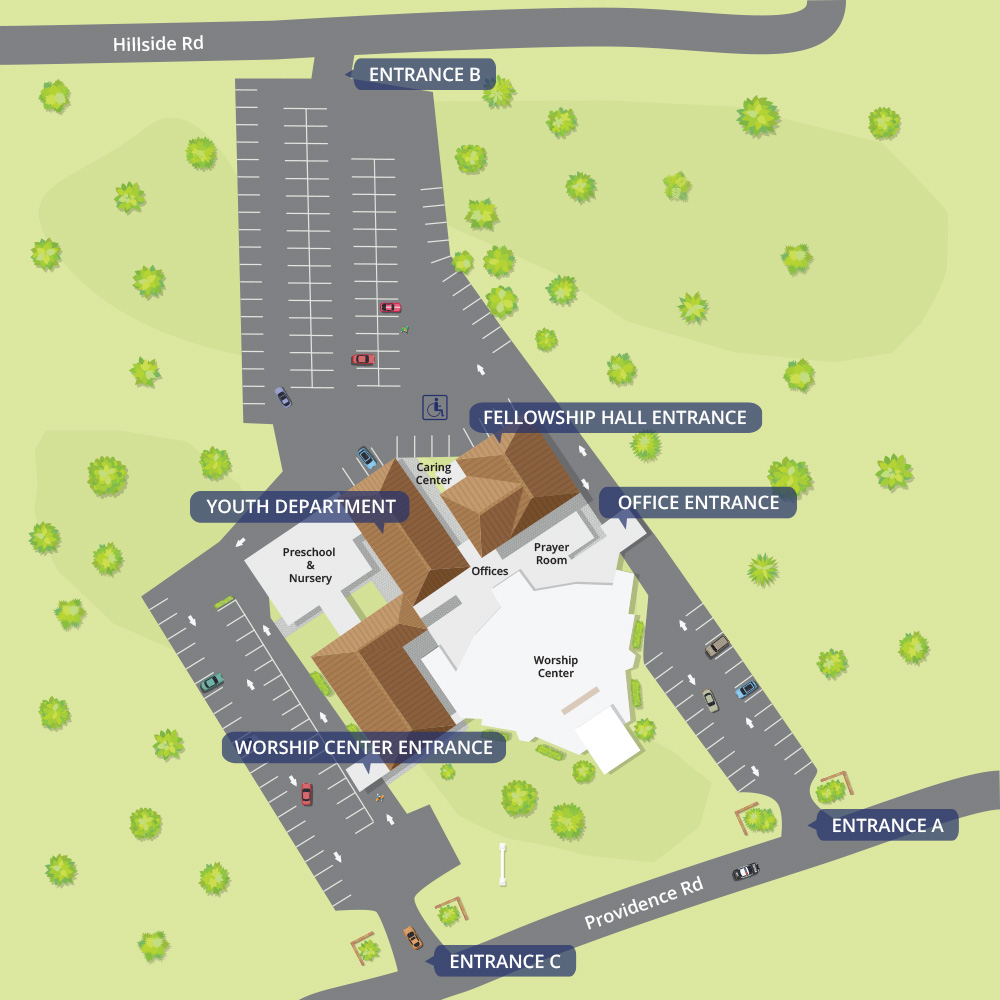 Where to Park & Enter
We recognize our building is large and can be confusing. People can look for the blue signage posted at the entrances and throughout the building. Parking Lots A, B, and C are accessible from any of our entrances on Hillside Rd or Providence Rd.
We invite our guests to park in Lot C and enter through the Worship Center Entrance.


If you have young children, you can enter through the Preschool & Nursery Area where you will be greeted by our friendly volunteers.


If you need handicap accessibility, please park in Lot B and enter through the Fellowship Hall Entrance.


If you need to come to the office during the week, please park in Lot A and enter through the Office Entrance.
Connect Groups
Regular classes last 1 hour, starting at 9:30 AM
Special programs for Children and Youth
Worship Time
Service starts at 10:40 AM
Music is inspiring and contemporary
Singing is optional but encouraged
Expository sermons enrich our understanding of the Bible
Grow With Us
At Central Baptist, we want you to grow in your faith alongside us.
Follow along with us in this process of growth:
Visit
Visit this coming Sunday. We want to meet you.
Connect
On your visit, be sure to complete our Visitor Card. It's our way to connect with you and help you get plugged in.
Discover
Sign up for Central Discovery, a monthly luncheon for newcomers to meet our staff, find resources and learn about all they can find here at Central.
Join
Join with others at a Sunday School Connect Group to meet others, learn, and deepen your faith.
Central Discovery
Once per quarter we hold a special luncheon for those seeking to know more about us. This luncheon offers us an opportunity to break bread with one another and help us to get to know you better while answering any questions you may have.
Please fill out the form below and let us know which date you would like to join us for our upcoming Central Discovery lunch.
Sign Up for Central Discovery
Worship with Us
In-Person
Online
Live
Watch with Us